Iwokrama &raquo Tourism Updates
Tourism Updates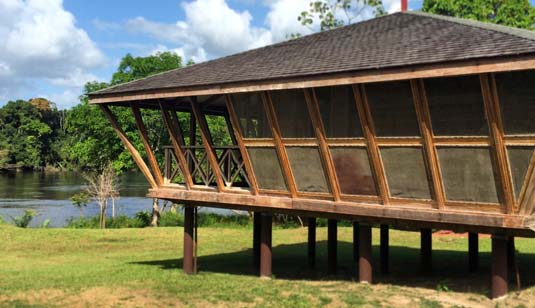 The potential for Ecotourism at Iwokrama continues to grow. With the year ending, we found out that again we have an increase in tourist arrivals both international and local. In consideration of this, we are embarking on a complete revision and refurbishment of the Iwokrama Tourism Product. The idea is to start thinking on long term goals that will be mutually beneficial to all parties involved in this amazing project. With Iwokrama being the ecotourism landmark in Guyana, more can be done to market this tool. With over 600 million travelers out there, and with proper marketing strategies, we can create one of the most special places on earth.
With all the vast forest and several tour destinations already identified within, we can only think of exploring more and more. Identifying new destinations not only creates visitor's flexibility and enhancement of their experience, but implements a longer stay period. In the meantime, this will also create the possibility to attract visitors who will want to return.
Plans and ideas are being put in place to design a much warmer approach for guests overnighting at Turtle Mountain Satellite Camp. Turu Falls has been revisited and will be another special destination that will be designed for full day and overnight trips. Another integral attraction in the property is the Cock of the Rock Trail close to Corkwood Ranger Station. Due to the fragility of the species, we have decided to sell the product based on a low impact visit. This means, that we will not be allowing more than five visitors at a time in the trail.
Presently, with 8 cabins/lodges onsite, we have the perfect blend to cater for Eco-travelers. The increase on arrivals and the demand of travelers has prompted an immediate refurbishment of three thatch roofed cabins. This, together with new hammock accommodations being set in place for construction, will bring a new and warm approach to the tourism product at Iwokrama River Lodge.
---
Visit our new website for
tours, rates, booking facilities, and more!