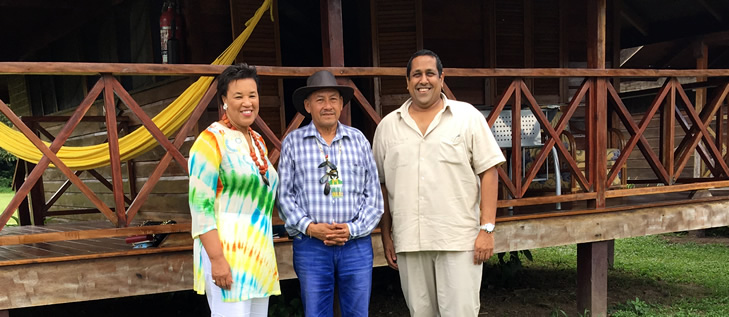 Commonwealth Secretary General visits Iwokrama
Commonwealth Secretary‐General Patricia Scotland visited the Iwokrama International Centre and the Iwokrama Forest on July 6th, 2016. She was accompanied by Minister Sydney Allicock and Dane Gobin, CEO of Iwokrama.
With a keen interest in Climate Change, Baroness Scotland noted "that climatic stability are incredibly important and it's to be applauded, the way Guyana, for the world, has sought to harvest the good things that come out of Iwokrama and preserve them,". The Baroness urged that Guyana take into consideration carbon farming as a way to slow down the rapidly changing climate. Carbon farming is cultivating in such a manner that greenhouse gas emissions are reduced.
"Many countries in the world now," the Baroness said, "are trying to meet their COP21 commitments. And the question is: How can they do that within the same framework of their countries? "So, they will be looking for other countries to assess and to assist." Guyana's efforts towards preserving its natural resources were also welcomed by baroness Scotland. "Guyana is one of the richest countries, in terms of natural resources: The wonderful flora, fauna, trees, Guyana has everything: Gold, diamond, oil.
So, in terms of how we assist is incredibly good, not just for Guyana, but for the whole region." Our Chief Executive Officer of Iwokrama, Dane Gobin, noted that the reserve is still a relevant facility with regard to climate change, sustainable development, and other eco-based areas, despite being launched close to 20 years ago. "Iwokrama's potential and purpose align well with President Granger's green agenda and that plans are underway to change the financial model of the entity. It cannot continue to rely solely on donors, due to the pressures of other global priorities such as terrorism, natural disasters and poverty." Mr. Gobin added.
A main focus is the diversification of revenue sources, and this includes a sustainable forestry project, which will be certified by the Forest Stewardship Council, Gobin stated. This project will demonstrate viable logging within the area, in a sustainable manner, preserving most of the forest's integrity.
Another focus is on eco-tourism, and ways in which to attract more visitors. This number has increased to around 1,200 annually over the last few years, up significantly from around 100 persons when originally launched.
Plans are being formulated to have more Guyanese visit Iwokrama and other hinterland locations. Improvements made to the nearby Fairview Airstrip which services the area, as well as the Georgetown, Lethem trail, which quite a few of the more adventurous use to drive into the reserve.