[snippet page-header]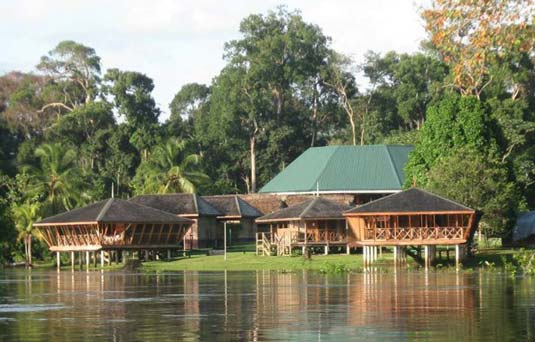 The River Lodge and Research Centre, situated on the west bank of the Essequibo river, is Iwokrama's operational hub. While remote, it offers all that you could possibly need for a comfortable stay in the forest.
There are 8 beautifully situated river facing cabins, each of which is spacious and beautifully designed, equipped with fans, bathroom, 24 hour electricity supplied by solar power, and a wrap-around verandah with hammocks. Our cabins are designed for two but with room for a third bed if required. From these comfortable cabins, watch the sun go down, listen to the many local birds and other wildlife or simply relax in your hammock. These cabins were built for comfort and are perfect for everyone, from families to friends traveling together.
Nearby, overlooking the river, is the bar and the restaurant, where, after an exciting day of discovery and exploration, you can enjoy traditional Guyanese cuisine at our restaurant. A few steps away is a business centre with internet access, a gift shop and a shop selling cold drinks, snacks and general items such as toiletries that you may have left at home. Not far away are two science laboratories and a modern conference room with air conditioning and which is wired for digital equipment such as computers and LCD projectors.
[snippet visit-new-site]