ACP Secretary General visits the Iwokrama International Centre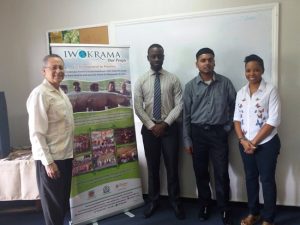 Georgetown, Guyana 10th August, 2017
The Centre announced today that the African Caribbean Pacific Group of States (ACP) Secretary –General, Guyanese Dr. Patrick I Gomes paid an informal courtesy call to its offices at 77 High Street Georgetown.
Dr. Gomes is an ardent supporter of Iwokrama and whilst he was Guyana's Ambassador to the European Union and the ACP, was instrumental in the Centre securing a substantive European Grant for a research project that was implemented in three regions of the ACP where Iwokrama was the designated focal point for the Caribbean Region, and successive initiatives
Dr. Gomes toured Iwokrama's offices where he met and interacted with two of the three staffers of Iwokrama who were just offered scholarships under the ECCAM project to pursue their masters degrees. The three staff are Shara Seelall, Jason Dick-Grant and Purnanand Lalbachan.
ECCAM –Education for Climate Change Adaptation and Mitigation project is funded by the ACP and European Union from the European Development Fund. The project offers opportunities for study in several partnering ACP countries' universities. Partner universities include University of Guyana, Fiji National University, University of the West Indies. Iwokrama is an associate partner and Ms Vanessa Benn is the point person. All three awardees will attend the Fiji National University.
The Secretary General had an enlightening discussion with the awardees on the history of the ACP, established by the Georgetown Agreement in 1975. He also spoke about the historical contributions and influence of Guyana, Fiji and other ACP counties to several international issues including treaties on environment and trade.
Dr Gomes indicated that the ACP deeply appreciates the commitment of the Iwokrama International Centre for its novel work in conservation and sustainable development and acknowledged the role Iwokrama provides in transfer of knowledge including scientific knowledge to other ACP countries.
He also lauded Guyana's role on the international front on environmental issues and expressed admiration for the initiatives of His Excellency President Granger for the Green State Development Strategy (GSDS). The SG firmly believes that Iwokrama could play a pivotal role in the implementation of this strategy.