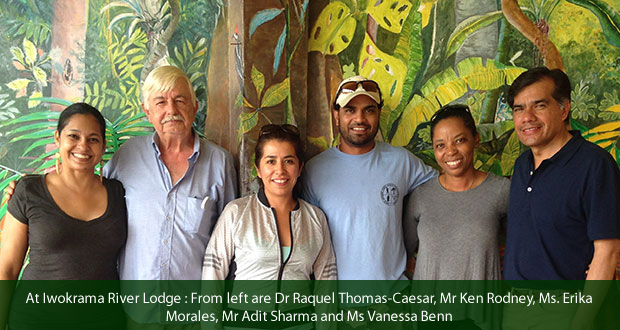 Mexico and Iwokrama to partner on management of protected areas – to boost economic activities
MEXICO'S National Commission of Natural Protected Areas (CONANP) is implementing in collaboration with the Iwokrama International Centre (IIC), a conservation project to enhance the sustainable economic activities in natural protected areas in Guyana. The project focuses on the exchange of experiences and best practices to boost economic activities such as eco-tourism, commercialisation of organic products and handicraft, and indigenous communities' engagement in the conservation of the natural, protected areas. This project is part of the Mexico-Guyana Bilateral Co-operation Programme.
Two experts from CONANP, Erika Morales and Manuel Juandiego, visited Guyana from April 24 – 29 and shared the progress achieved and strategies devised in Mexico's 177 natural, protected areas with Project Managers from IIC, Vanessa Benn and Dr Raquel Thomas-Caesar and with the Commissioner of the Protected Areas Commission, Damian Fernandes.
The goal of the meeting was to create an opportunity for exchange, where participants were able to present the innovation schemes and areas of opportunity for both Mexico and Guyana.
The Mexican experts visited Iwokrama River Lodge and Research Centre, where they had the opportunity to learn about Iwokrama's programmes, including business development and the
involvement of the Amerindian communities in the co-management of Iwokrama, in a meeting with the North Rupununi District Development Board (NRDDB) at Bina Hill, Annai. They also interacted with students of the Bina Hill Training Institute.
A visit to Surama Village provided them a first-hand look at the model community tourism product
that has been successfully developed there.
The Mexican experts discussed the current work being done at Calakmul Biosphere Reserve in Mexico, involving the engagement of local communities for the production of honey, handicraft and articles for export to certain niche markets.
CONSERVATION ACTIONS
This co-operation project presents the opportunity to develop a partnership between Mexico and Guyana to promote a series of conservation actions in protected areas that favour the preservation of the ecosystems and result in ecological, social and economic benefits to local, national and international communities.
Original Article
Article above is extracted from Guyana Chronicle May 5, 2016 article.